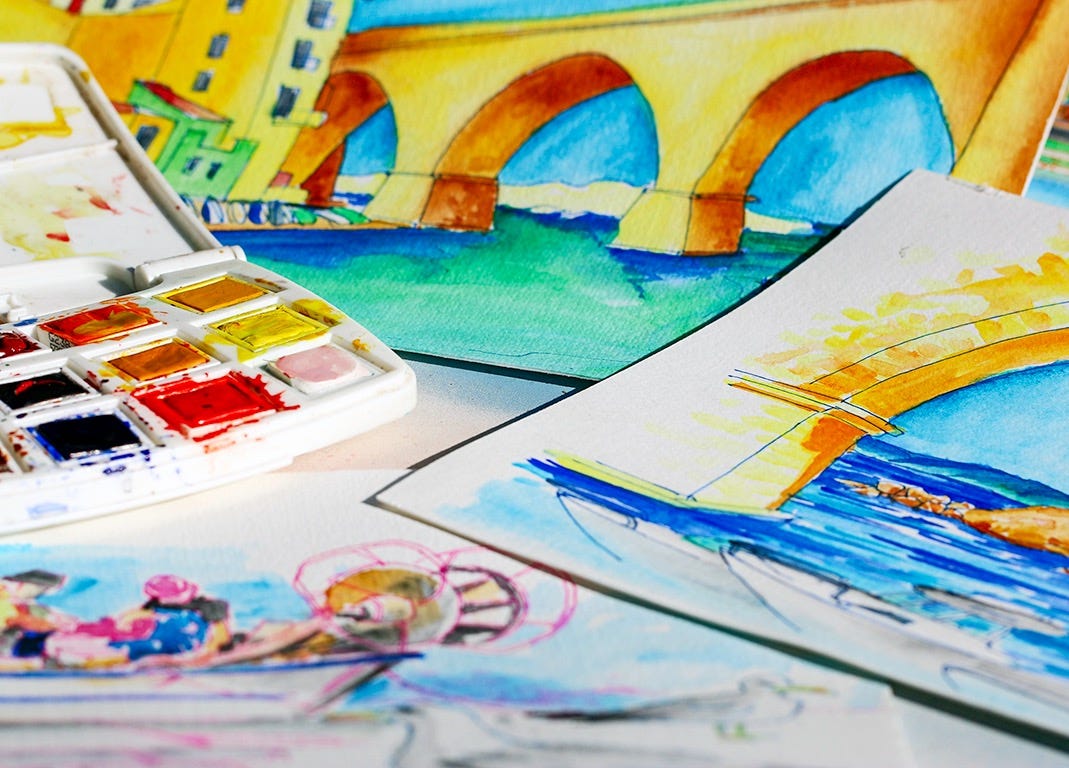 Painting & photography - art class & workshops in Provence. These are so much more than learning to paint or improve technical photography skills. These are Provence lifestyle tours that aim to capture your imagination & creativity using your skills as a painter or a photographer in a very different way. Provence is a lot more than just rolling hills, hilltop villages and lavender fields. There is the architecture, the ambience, the light, the colours and the atmosphere that makes this region challenging and inspirational for an artist. It is for this reason, we as creatives have decided to launch a new series of art & photography tours for the 2021 season.

These are modules of one, two days and more intensive five day course. The painting classes include materials and transport to and from each location. The photography tours you'll need to bring either a camera or a smartphone, but they also include transport to and from each location, refreshments & light picnic lunch. All tours exclude accommodation - we are happy to propose bed & breakfast or hotel when you reserve.

What makes them different is that these are private small group courses, available to reserve all year round and you can fit into your own travel schedule.
painting and art class holidays in Provence villages & countryside
One day experience
Wouldn't it be fantastic to do an art workshop while visiting Provence? We offer a relaxing experience in authentic & beautiful locations, with a practicing artist as your guide and mentor for the entire day. This is a one day private course for people of varying skill levels. It's a great day-out activity in the South of France.
Two day weekend painting class
We never need to go very far and all sessions are en plein-air, reached by car in or around the countryside or a Provençal village location. A two day or weekend course offers you many aspects that are inspirational for any artist. All our workshops though can be customised to individual requirements and skill level.
Five days intensive painting
A five day intensive private art class vacation in Provence. Each day we collect you by car, travel to markets, villages & countryside locations to discover and to paint. Perfect for one or two art-minded people travelling together or for a larger group of friends. We keep the maximum number to 6/8 so everyone has plenty of tutor time.
photo skills courses & vacations in the towns & villages of Provence
One day experience
This is a one day intensive, photography experience. We will spend time learning how to use light, depth of field, shadows & composition, using the atmosphere, ambience & people we find at two different locations during the day. In the morning, a small town or village and the afternoon spent in the countryside. Includes transport.
Two day photography course
This is a two day experience with the added benefit of being able to look in more detail at how to take more compelling photographs of people, architecture, landscape & seascape. On the second day we visit Arles to look at the architecture and people in the street and in the afternoon, the remote seascape of the Camargue. Includes transport.
Five days intensive photography
On this tour through the lens of your camera or smartphone you will learn how to push your creativity & artistic flair to the full. Every day a different set of locations that absorb you into the Provençal way of life. From towns & villages, historic architecture, street markets, landscape, seascape, people watching & street photography. Includes transport.
Christopher Curtis: I'm a self taught photographer. I took my first picture when I was just seven years old and love exploring every type of creative field out there through the lens of my camera. Each aspect of taking pictures has exposed me to and made me challenge myself to learn more the art of photography. My mind has a variety of cluttered ideas and different dynamics, which are thoughts that I am constantly developing. Having lived most of my adult life in London, I now live full time in Marseille with my French husband and our Weimaraner - Olive Oyl. Apart photography, I also am co-business owner of OohProvence.
Laurent Nurisso: Although at first sight my work seems to be inspired by Pop-Culture, my primary intention is to create new destinations. Viewing my work, the person gets lost and their imagination makes them read different versions of perhaps the same scenario. I've created a world populated by these Disney pictures, toys, superheroes, comics, signage & architecture all from another era, mixed with my memories of travel and meetings around the world. This quest is in perpetual mutation without my knowing the destination. It's a journey. I've lived in Paris & London and now in Marseille. I'm the other half of OohProvence.